Knowledge of market dynamics separates the winners from the losers.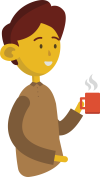 Faculty of Applied Economics
Number of ECTS: 60
Professional title:

Master of Economics
The Master's Program Management and marketing explores the dynamic world of markets, providing students with a deeper understanding of strategies for successfully running and promoting businesses. Through this program, students are introduced to the challenges and opportunities in business, exploring and creating innovative ways to grow and competitive advantages. Also, students are given opportunities for practical experience and connecting with individuals from the business community, thus opening the door for future success in the world of entrepreneurship and small and medium enterprises.
By completing this master's degree, students gain a number of benefits and competencies that prepare them for a successful career in the field of management and marketing, some of which are: marketing management; management expertise; deep understanding of the market; entrepreneurial skills; analytical skills; opportunity to explore innovations and trends in the field of modern economics.